The most popular car wash option is probably the do it yourself, self serve wash at a car wash bay. It's quick, cheap, no risk of damaging your car and the high pressure hoses available are far better than even most Gerni/Karcher high pressure hoses you might have at home (plus you don't get car grime all over your driveway).
See our list of recommended car cleaning items to have in your car to really finish the job like a pro at any self service car cleaning bay.
See the table below for locations of self serve car washes in Torquay and Geelong. You can scroll the table to the right to see all columns.
See a list of all 13 car wash options including self serve, automatic, hand wash, detailing and pet washes available to get your car washed in Torquay and Geelong.
| Car Wash Service Name | Car Wash Address | Automatic | Self Serve | Hand Wash | Detailing | Pet wash |
| --- | --- | --- | --- | --- | --- | --- |
| Splish Splash Torquay | Bell St Torquay | No | Yes | No | No | No |
| Torquay Carwash | 302 Cylinders Drive Torquay | Yes | Yes | No | No | Yes |
| Grovedale Car and Dog Wash | 226 Torquay Rd, Grovedale | Yes | Yes | No | No | Yes |
| Squeekies Car Spa | 92 Barrabool Rd, Highton | No | Yes | No | No | Yes |
| Wizard Car Wash | 65 High Street Belmont | Yes | Yes | No | No | Yes |
Why are self service car washes popular?
Do it yourself self-service car washes are cheap at around $5 per wash and very quick. $5 will typically get you 6 minutes of washing. A tight-ass tip to get more mileage out of your wash: it's best to break the car wash up with $1 and $2 coins to give yourself time between soaping, brushing and rinsing.
What are the options if I don't want to wash my car myself?
Another car wash option is the drive through or fully automatic car wash. Some automatic car washes are 'touchless' which means they use high pressure hoses only and do not use spinning brushes. Spinning brushes do have a bad reputation for damaging car paint work if used too often, so brushless is probably best. Even touchless automatic car washes can sometimes use harsher chemicals which may damage rubber seals and other more delicate car parts over time.
Hand car wash services in Torquay and Geelong. Grab a coffee and watch someone else wash your car for you, takes a bit longer and get a vacuum done as well. If you consider a do it yourself wash costs around $5 then a full-service wash is typically ten times the cost at $50 or more, with larger cars costing $65 or more.
Drop your car off at a car detailing service. Can be expensive and includes polish, wax and a clay bar treatment for the ultimate shine.
What are the advantages of self service car washes?
They are open 24 hours a day so you can wash your car quickly when you have time and when the queues have gone.
Your driveway doesn't get chemicals all over it from washing your car at home
For a few dollars you can wash the car yourself with high pressure hoses and soft brushes that won't damage your car's paintwork. To make sure you don't scratch the paint, spray the brush with the high pressure hose before using it to make sure there is no dirt left from the previous wash.
Most self service car washes have a tap and go feature for credit card payment, however some like Splish Splash Car Spa on Bell St in Torquay only have cash options. They all have change facilities available to get the required coins.
If you really don't want to get out of the car some self serve car washes have drive through 'touchless' automatic car wash bays or laser car bays like this.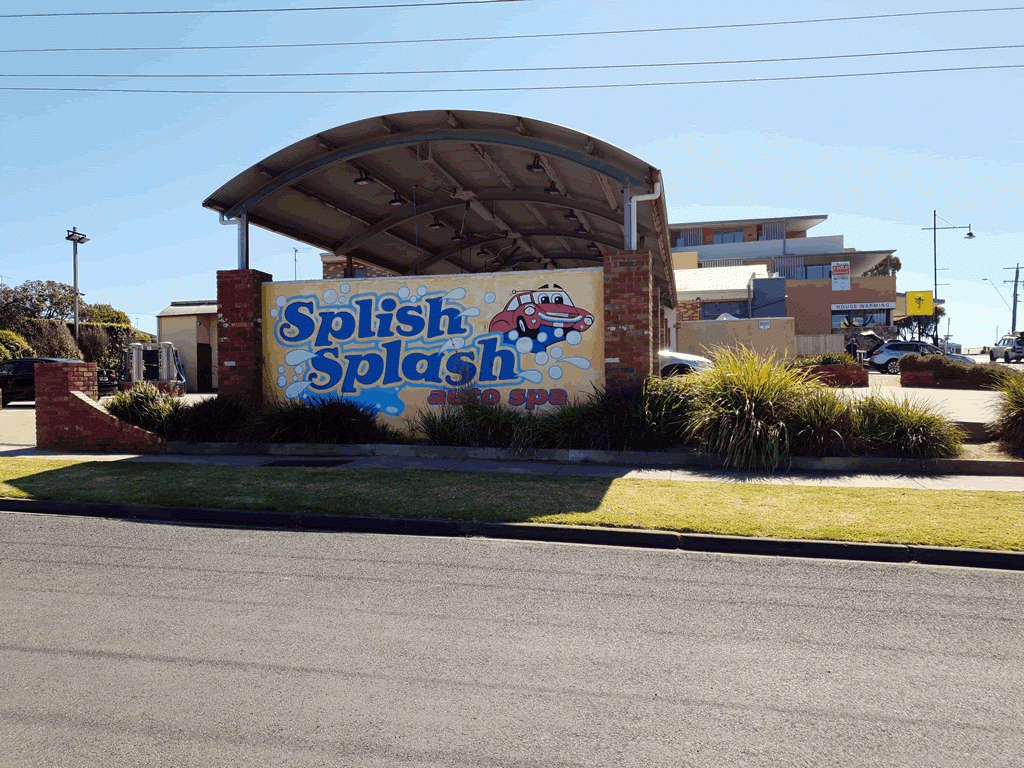 There are 3 main options for do it yourself or self-service car washes in Torquay Vic
Automatic car washes are only designed for normal cars with nothing on the roof, so no roof racks with ladders. Vans can use the automatic car wash but flat tray trucks and utes with cages of any sort cannot.
Splish Splash Car Spa is on Bell Street Torquay, near the Geelong Road/Surf Coast Highway roundabout, open 24 hours a day. No credit card payment option, but there is a change machine available.
Torquay Car Wash opened in 2018 and is near Aldi (also opened in 2018) in the new industrial estate on Cylinders Drive, also open 24 hours a day. Credit card payment is available and a change machine available.
Grovedale Car and Dog Wash, 226/228 Torquay Road, Grovedale, open 24 hours a day. Credit card payment is available and a change machine available.
Splish Splash Car Spa
On Bell Street Torquay Vic 3228.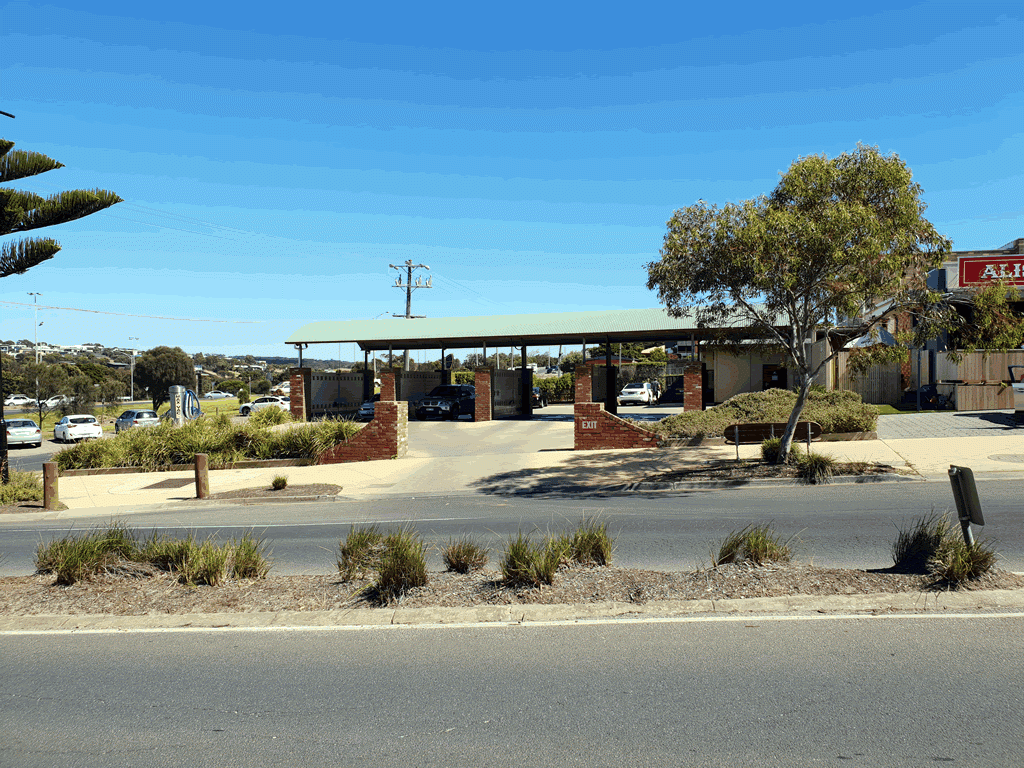 Torquay Car Wash
Located in North Torquay, near Aldi and on the south side of Bunnings Torquay on Cylinders Drive.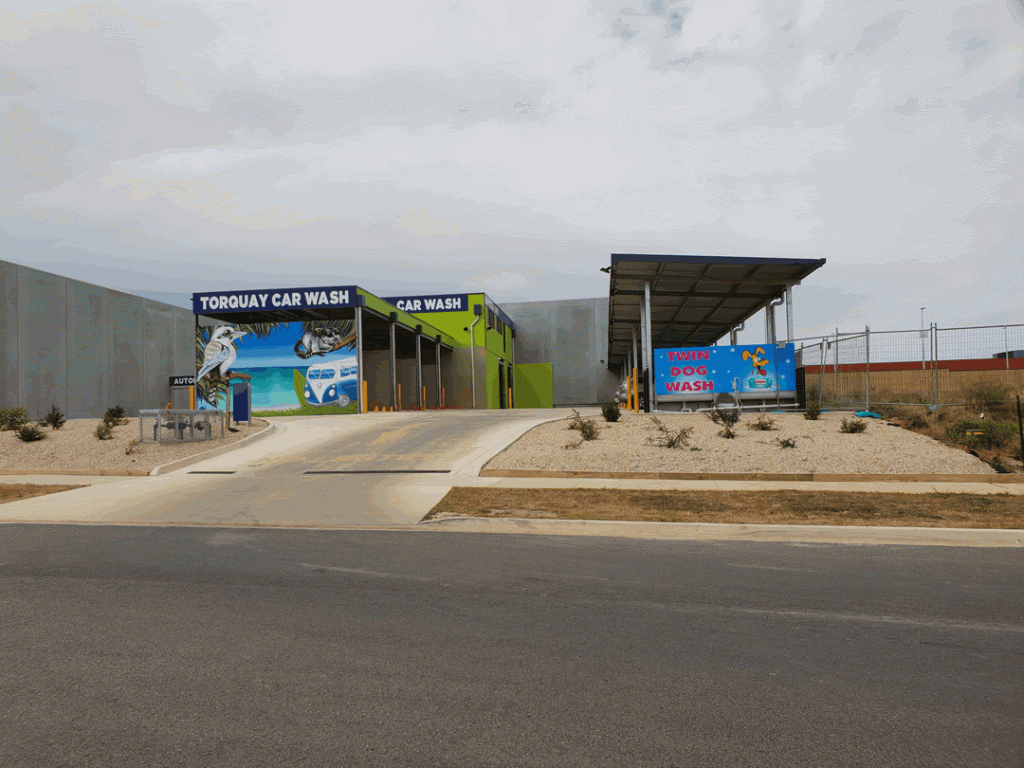 Grovedale Car and Pet Wash
On the east side of Torquay Road or the left side as you drive towards Torquay.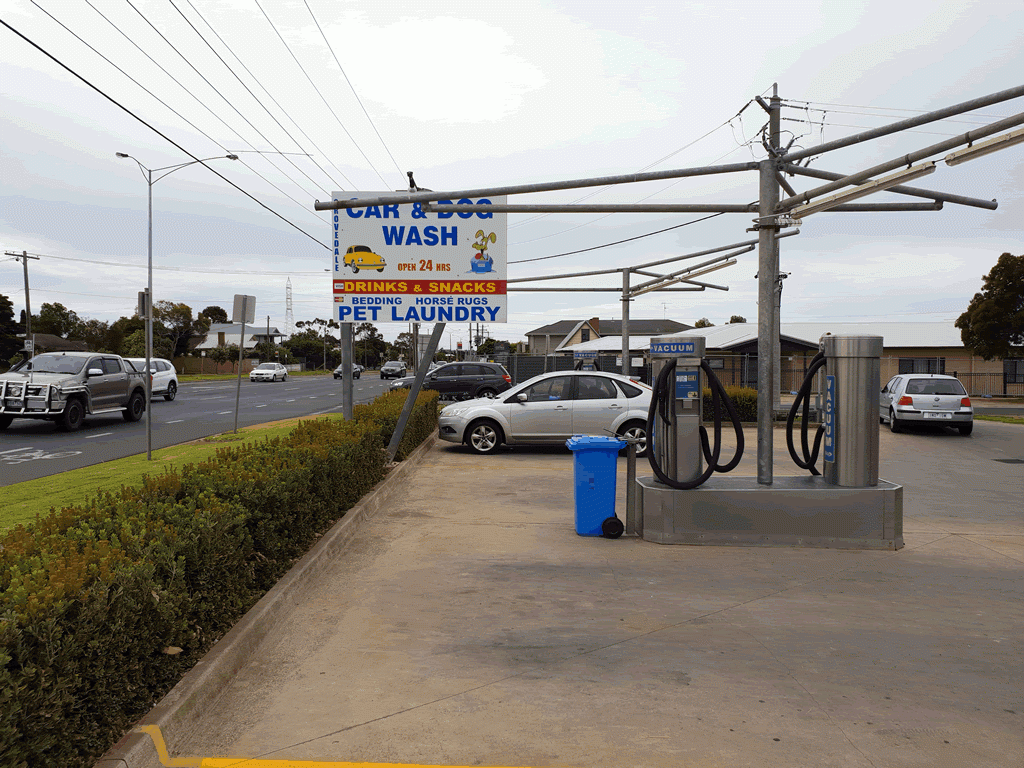 Self Service or Do it Yourself Car Wash Options
The list of ways you can wash your car does seem a little like someone designed it to keep you there longer.
Typical options as shown in the photo below are; Pre-soak, Tyre & Engine, Soap Wash, Foaming Brush, Rinse, Splatter Wax and Spot Free Rinse.
Despite the 'spotless rinse' options on the self serve car wash, wiping the car down with something like this Plush Microfiber Car Drying Towel will produce the best results to removing water marks.
$1 usually gets you 1 Minute and 20 seconds. Often the first 20 seconds is spent clearing the hose before the selected soap or wax actually kicks in. To take advantage of the extra time switch to rinse or soap 10 seconds or so before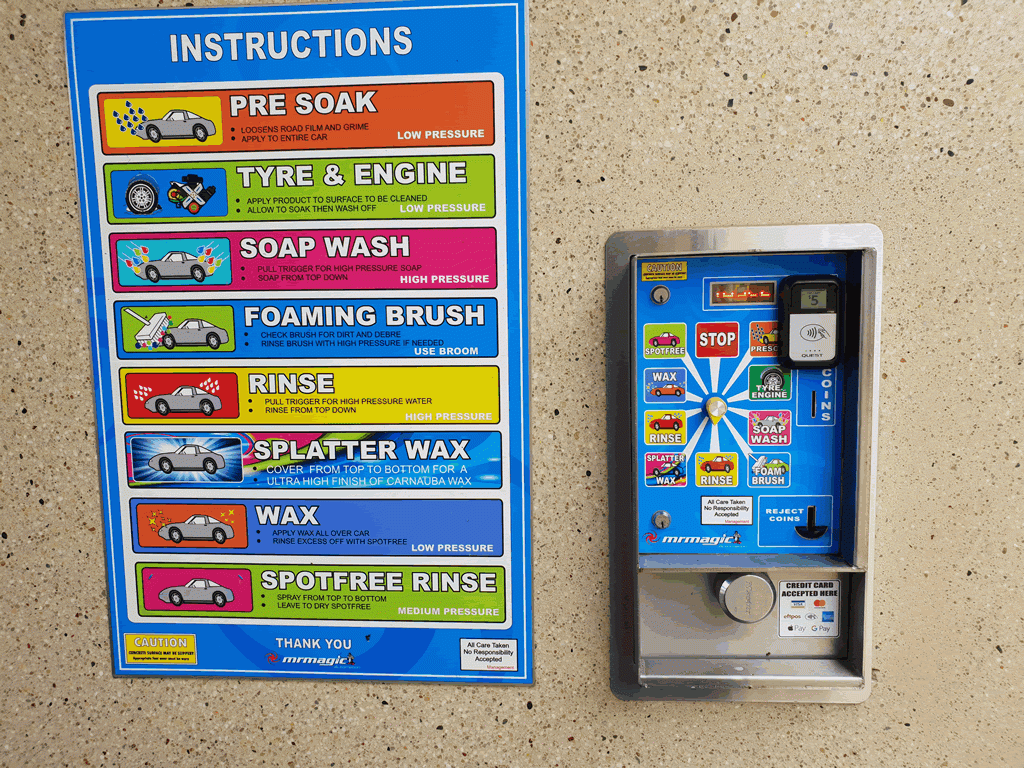 What you will need to get a great finish at a self-serve car wash
During the wash having super soft wheel cleaning brush will help clean the brake dust from the wheels. No amount of high pressure hosing with or without soap really gets all the grime from the wheels.
After the wash a super plush microfibre car drying towel will really get the car shining and remove any water marks at the end of the wash.
After the wash you could try this high tech nanotechnology polish which is supposed to reduce the amount of particles sticking to your paint to keep it cleaner for longer. They apply the same sort of stuff to high rise building windows to keep them clean, basically rain water removes anything that does stick to the windows because they are too slippery
If you want to go all out and wax after the wash 12 x wax applicator sponges – this is for the 'wax on' part (not wax off) at the end of the wash. For removing the wax something like these microfibre towels are great for removing the wax, the wax doesn't come out easily from the cloth so they are best thrown out once super clogged with used wax.