Another type of self-serve car wash available is the auto car wash or the drive through car wash. Automatic drive through car washers are sometimes found in service stations. With an auto-car wash you don't even have to get out of your car as you literally drive through (actually its highly advisable to stay in your car!).
| Car Wash Service Name | Car Wash Address | Automatic | Self Serve | Hand Wash | Detailing | Pet wash |
| --- | --- | --- | --- | --- | --- | --- |
| Torquay Carwash | 302 Cylinders Drive Torquay | Yes | Yes | No | No | Yes |
| Grovedale Car and Dog Wash | 226 Torquay Rd, Grovedale | Yes | Yes | No | No | Yes |
| Wizard Car Wash | 65 High Street Belmont | Yes | Yes | No | No | Yes |
| Coles Express at Shell Service Station | 452 Moorabool St South Geelong | Yes | No | No | No | No |
Smart wash and Laser wash are two types of auto car wash which are touch-free. They only use high pressure hoses and chemicals to clean the car. There are no spinning brushes which may damage the paintwork of the car.
Automatic car washes are only designed for normal cars with nothing on the roof, so no roof racks with ladders. Vans can use the automatic car wash but flat tray trucks and utes with cages of any sort cannot.
Do drive through car washes scratch your car?
Many drive through or automatic car washes have a touchless car wash option which sprays the car with soap and water jets. Some drive through car washes still use brushes but they are very soft and the old swirling effect that you might have got 10 years ago from a drive-through car wash is limited or eliminated. The problem is not so much the brush itself but dirt which might be left on the car and then acts as an abrasive against between the soft brush and the car's paintwork.
Are cars with roof racks ok on automatic car washers?
Check with the carwash instructions but most cars with empty roof racks are ok.
Are utes ok to go through automatic car washes?
Always check the specific car wash instructions but normal utes are usually ok on automatic car washes. Utes with flat trays are not ok for automatic car washes. Obviously you don't want tools or other items in the back to get wet so make sure they are removed before you go through the car wash. Ladders, in particular, can be a problem for some automatic car washes.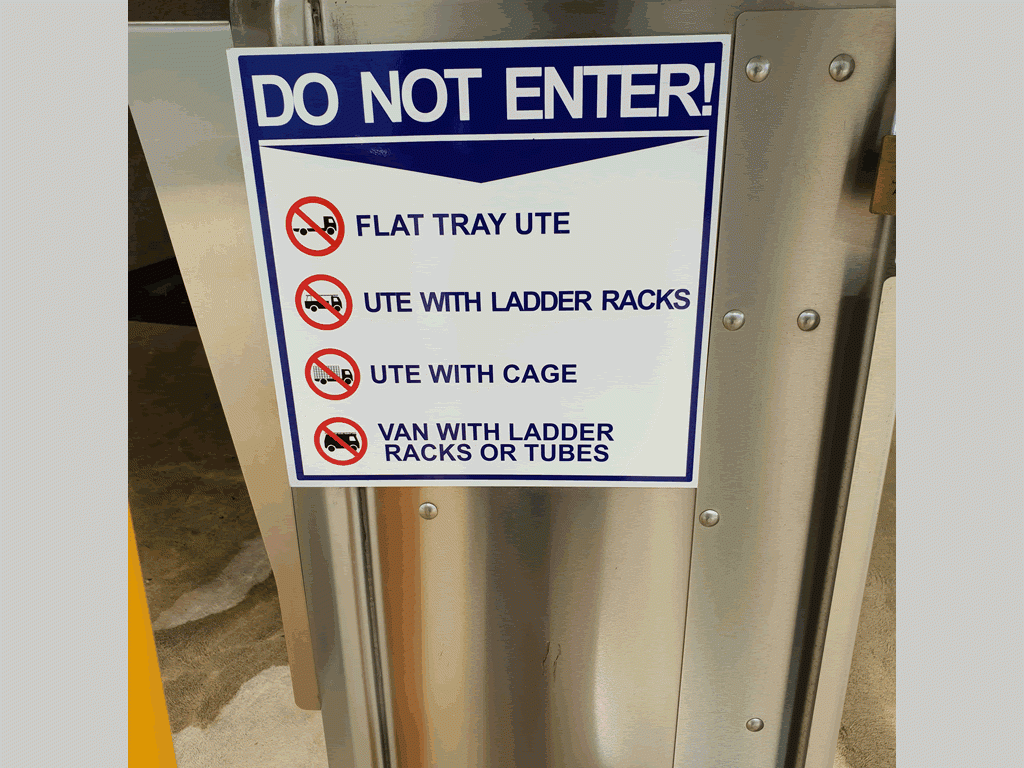 Drive Through Automatic Car Wash Options in Torquay
Torquay car wash behind Aldi just off the Surf Coast Highway has two drive through automatic car washes. Prices for the automatic car wash range from $14-$18. The alternative at Torquay Car Wash is the self-serve car wash which is around $5 for 6 minutes. In 6 minutes you can usually wash a car or SUV. Do a warm soap wash, foaming brush and then use the last 2 minutes for a thorough rinse.
The next closest automatic car wash is Grovedale Car and Pet Wash
The Coles express on Moorabool Street Geelong has a drive through car wash prices for a single wash range from $11 to $20. Are the extras such as pre-wash, underbody wax and superdry worth it? Probably not, don't forget Coles is a master of retail and can't help but offer choices that bump up the price to get you to part with that little bit of extra cash from your wallet.
Automatic car wash options
Sometimes automatic car wash options get expensive when compared to self serve options. Wax is added on more premium services, how long sprayed on wax lasts would be interesting.
A standard automatic wash, where you don't need to leave the car or get dirty might be a good option before a do-it-yourself car wash or even a hand car wash service if the car is really, really dirty or muddy.
The risks of damaging old paintwork and mirror finished surfaces are highlighted before you enter most automatic car washes