Options to get your car washed in Torquay are:
Do it yourself at a self-service car wash, very cheap at around $5 per wash and quick.  $5 will typically get you 6 minutes of washing, although it's best to break this up with $1 and $2 coins to give you time between soaping, brushing and rinsing.
Grab a coffee and watch someone else wash your car for you, takes a bit longer and you do usually get a vacuum done as well.  If you consider a do it yourself wash costs around $5 then a full-service wash is typically ten times the cost at $50 or more, with larger cars costing $60 or more.
Drop your car off at a car detailing service.  Can be expensive and includes polish, wax and a clay bar treatment for the ultimate shine.
Do it yourself or self service car washes in Torquay
Some of the advantages of self service car wash are:
They are open 24 hours a day so you can wash your car quickly when you have time and when the queues have gone.
Your driveway doesn't get chemicals all over it from washing your car at home
For a few dollars you can wash the car yourself with high pressure hoses and soft brushes that won't damage your car's paintwork.   To make sure you don't scratch the paint, spray the brush with the high pressure hose before using it to make sure there is no dirt left from the previous wash.
There are 3 main options for do it yourself or self-service car washes in Torquay Victoria.
Splish Splash Car Spa is on Bell Street Torquay, near the Geelong Road/Surf Coast Highway roundabout, open 24 hours a day.
Torquay Car Wash opened in 2018 and is near Aldi (also opened in 2018) in the new industrial estate on Cylinders Drive, also open 24 hours a day.
Grovedale Car and Dog Wash, 226/228 Torquay Road, Grovedale, open 24 hours a day.
Splish Splash Car Spa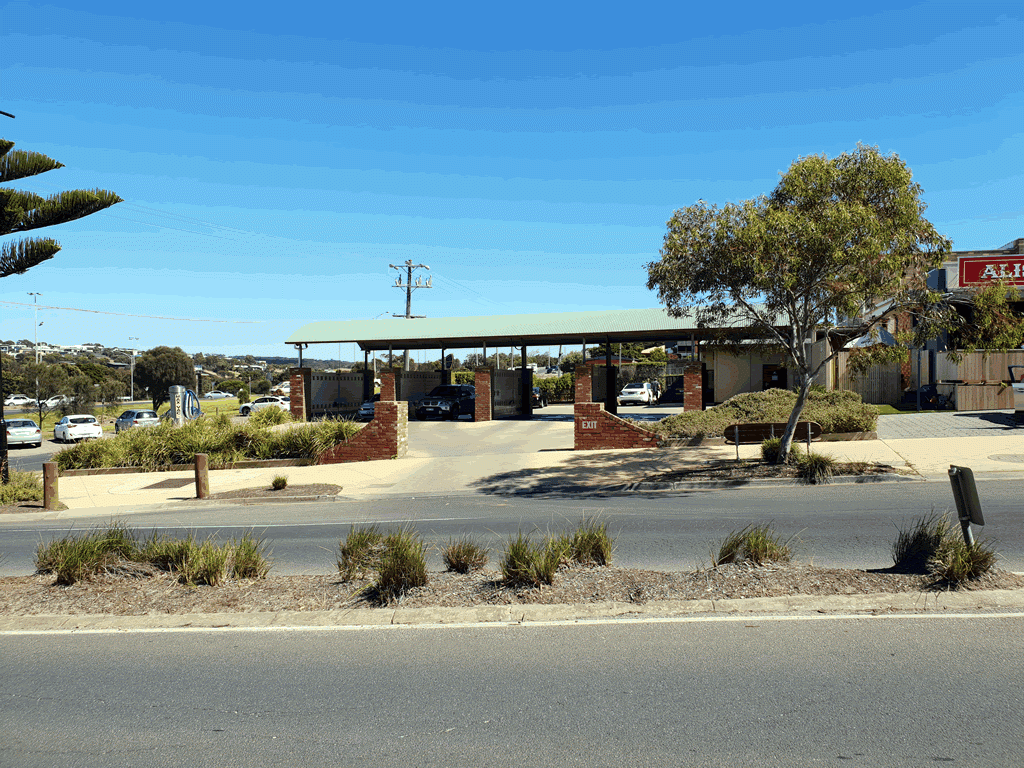 Torquay Car Wash
Located in North Torquay, near Aldi and on the south side of Bunnings Torquay on Cylinders Drive.
Grovedale Car and Pet Wash
On the east side of Torquay Road.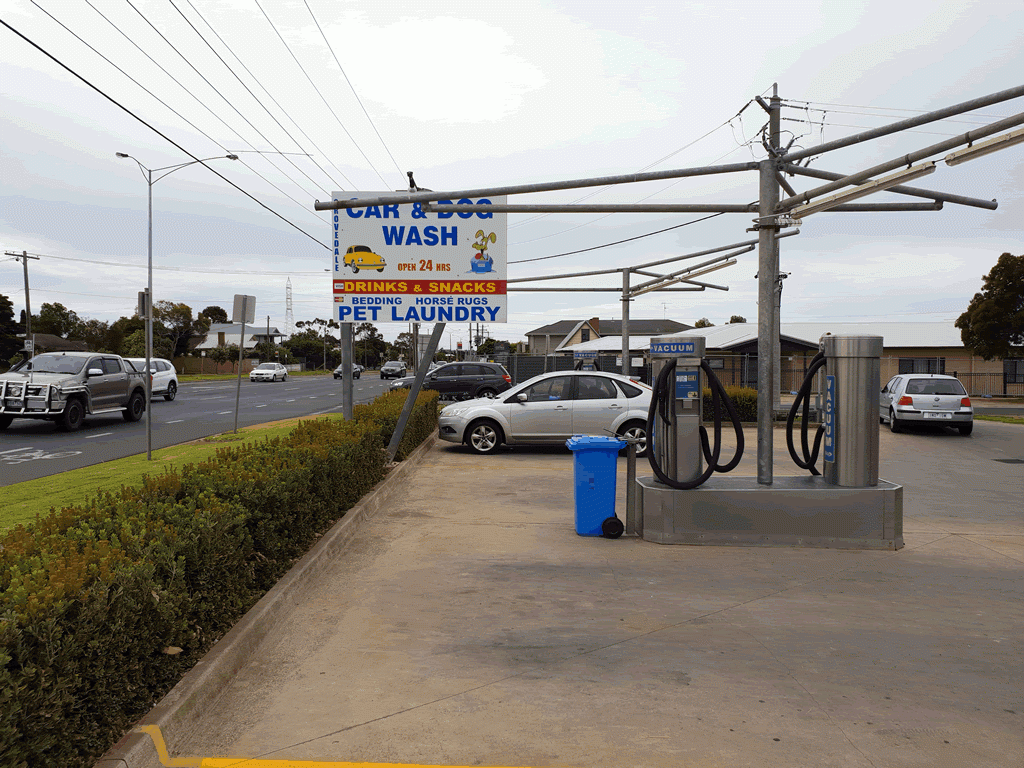 Modern Self Service Car Wash Options
Pre-soak, Tyre & Engine, Soap Wash, Foaming Brush, Rinse, Splatter Wax and Spot Free Rinse.
$1 usually gets you 1 Minute and 20 seconds.  Often the first 20 seconds is spent clearing the hose before the selected soap or wax actually kicks in.  To take advantage of the extra time switch to rinse or soap 10 seconds or so before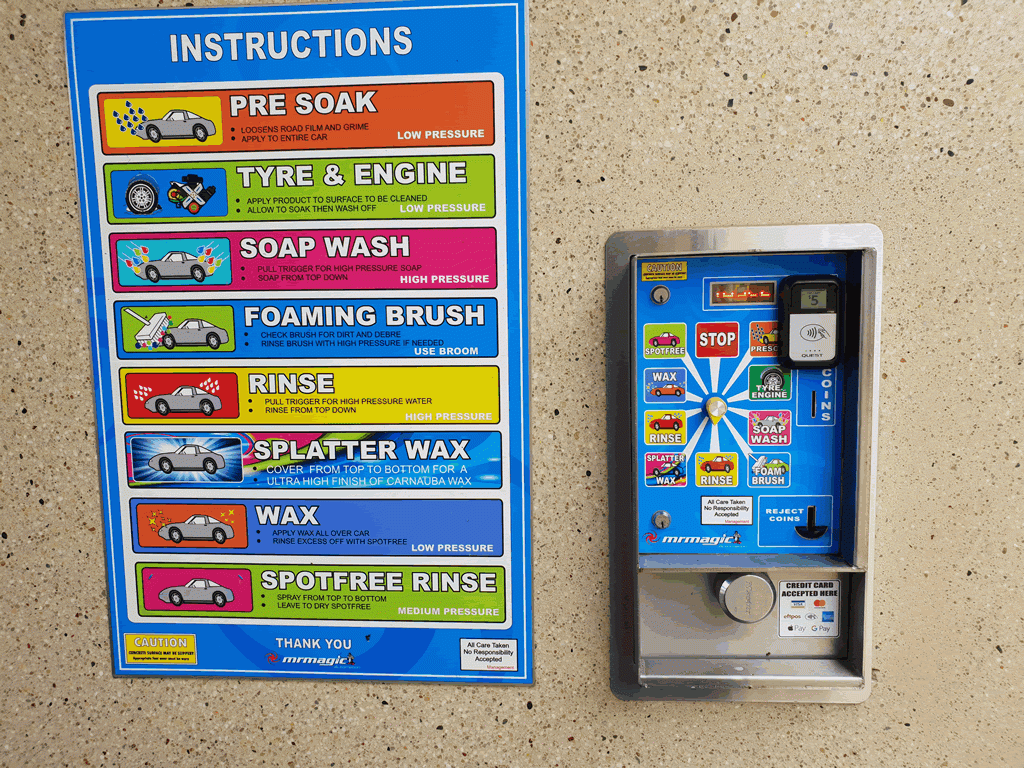 Hand Car Wash in Torquay
Have a coffee while you wait for your car to be washed and vacuumed.  Definitely the most expensive option and unfortunately lack of competition around Geelong and Torquay does mean these services are a little expensive and the quality is sometimes lacking.  They certainly get the job done but how well they get the job done may vary each visit.
Car Detailing in Torquay
If you are selling the car this is probably the way to go (although you may not want to sell it after these guys are finished with it!).
Geelong Car Detailing offers pre-sale car detailing services from $350.